The Round Rock Public Library is set to open its doors to the public this weekend, marking the completion of the final project from the City of Round Rock's most recent general obligation (GO) bond program.
In November 2013, Round Rock residents approved four bond propositions totaling $123.6 million for capital projects to improve public safety, the library and parks and recreation.
2013 G.O. Bond Propositions approved by voters
• Proposition 1 – $16.5 million for Fire Department facilities
• Proposition 2 – $56.5 million for Parks and Recreation purposes
• Proposition 3 – $23.2 million for Library facilities
• Proposition 4 – $27.4 million for Police and Fire training facilities
The City of Round Rock generally uses bonds to fund major quality of life and public safety projects, while using other funding sources, such as certificates of obligation, impact fees and sales tax revenues, to fund road projects and other infrastructure.
The 2013 GO bond made a sizable impact on the community. Here is a recap of the major projects accomplished through the program:
Fire Department Facilities
The City utilized bond proceeds to build three new fire stations, relocate Station No. 3 within its current response area and renovate Central Station. The three new fire stations included Fire Station #8 in Southeast Round Rock, Fire Station #9 in Northwest Round Rock and the relocation of Fire Station #4 to a newly constructed building.
Public Safety Training Facility
This project, completed in September 2018, constructed a 65,000 square foot state-of-the-art public safety training facility at 2801 N. Mays Street featuring training offices and classrooms, an indoor shooting range, training village with fire training props, five-story burn tower and driving skills course. Police and Fire Department personnel actively utilize the facility for regular and specialized training.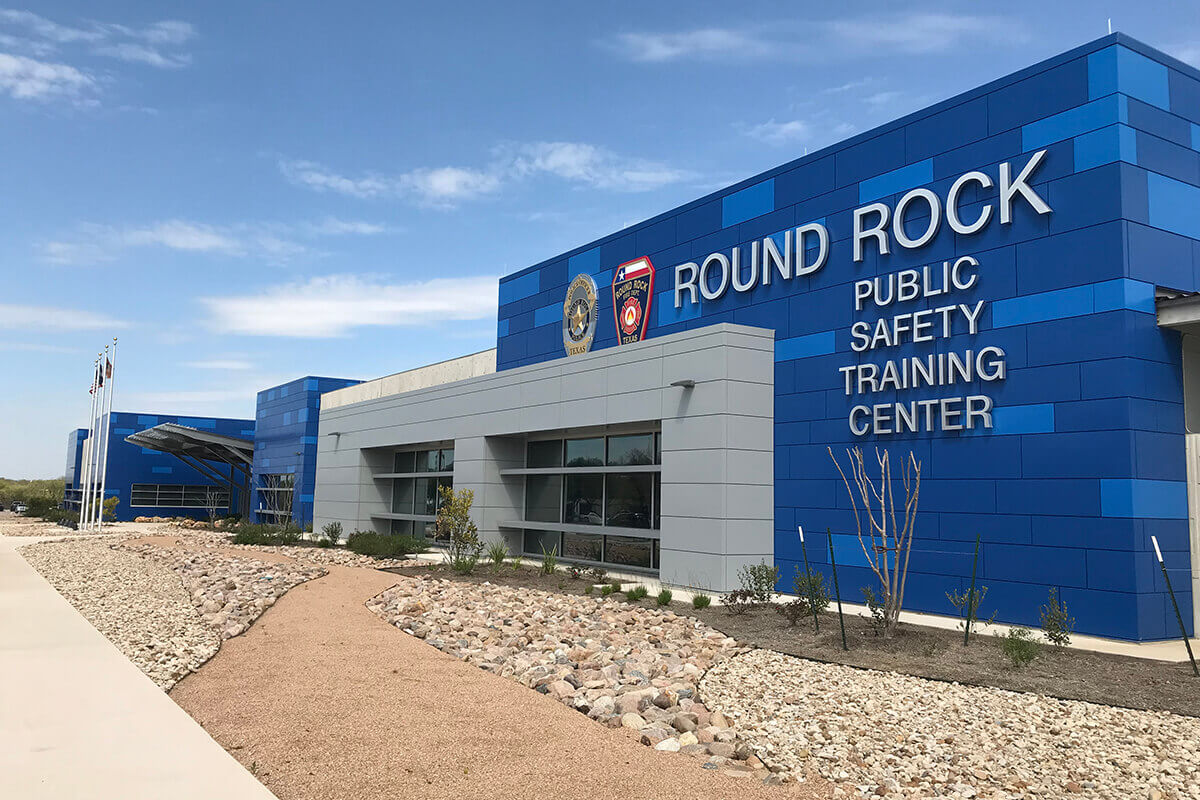 Parks and Recreation
Rock 'N River Family Aquatic Center: This project, completed in May 2016, included construction of a large, interactive play feature with slides and tipping bucket, a rock climbing wall and dive platform with deep water lagoon, and an adult lagoon with swim up refreshment area. It also featured the addition of thematic elements, seating areas, shade structures and a food truck vending area.
Multipurpose Field Complex and Soccer Complex Improvements: This project, completed in May 2017, constructed a complex of championship level multipurpose fields featuring synthetic and natural grass, sports lighting, spectator seating and shade structures and a restroom/concession building. The existing natural grass soccer complex in the southern portion of Old Settlers Park was also renovated as part of this project.
Brushy Creek Trail – Georgetown Street to A.W. Grimes Boulevard: This project, completed in June 2020, provided additional length along the Brushy Creek Trail. It features a 10 foot wide concrete trail and interpretive signage.
Multiple other trail projects were designed for future construction with funding from the 2013 G.O. bond, including Heritage Trail West, Heritage Trail East and Lake Creek Trail. Heritage Trail West, a section of trail from just west of Chisholm Trail Road to Mays Street, began construction in October 2020. In September 2021, the contractor abandoned the job, and the City began a lengthy legal process to collect damages from the contractor's surety and/or have the surety complete the work on behalf of the City. In August 2022, the Round Rock City Council voted to allow the City to take the project over and seek reimbursement after the fact. Construction is anticipated to resume during the first half of this year.
The 2013 G.O. Bond program also funded improvements to several City parks over the last decade:
Round Rock Public Library
$23.2 million in bond proceeds were utilized to build a new 66,000 square-foot main library located on the block directly north of the old library site at East Main and Sheppard. A 289-space parking garage next to the building was constructed at a cost of $13.4 million funded through the City's Type B sales tax revenues. With additional space, the library will expand its core services to children, teens and adults, as well as technology additions and more types of meeting spaces and program rooms.
To learn more about the 2013 GO bond, visit roundrocktexas.gov/2013bond.