The Round Rock Public Library presents monthly cultural and art-themed exhibits and displays in the Gallery area on the first floor of the library. Exhibits can be viewed when the library is open. If you are an artist or part of a group that would like to exhibit your work on our gallery walls or display case, please contact Julie Chapa, 512-218-7014.
October 2021 – Skip Hunt Photography
Skip Hunt, born on the wind-swept plains of Oklahoma, is a professional photographer in Austin, Texas. He picked up a 35mm camera in the mid-1970's and has never stopped sharing his unique vision via photographic images. Many moons ago, he was bitten hard by the wanderlust beast and has been canvassing the globe ever since. Visionary artists such as Pete Turner, David Lynch, Cindy Sherman, and Andre Kertesz set Skip's sight on a fine-art horizon early on. His insatiable thirst for rich color and even richer cultural exploration keeps him on the road most of the time. When he's recharging his batteries, he calls Austin, Texas home.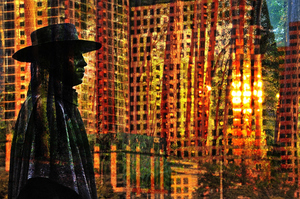 November 2021 – To be Announced
2021
September — Janet Oh
August — The Center Art Club
July — Henry Huey
June — Artists of Central Texas (ACT)
May — Charlie Favret
April — Paula Rasmussen
March — B. R. Martindale
February — Melissa Fontenette-Mitchell
January — Clarence Born
2020
December — Marinda Stewart
November — Marinda Stewart
October — Selections from Students of Chanta Sheidow
September — Helen Park
August — Wes Odell
July — Center Art Club
June — New Library Photos Exhibit
May — New Library Photos Exhibit
April — Sung Cha Brooks
March — Mary Olivera & Nancy Lilly
February — Melissa Fontenette-Mitchell
January — Paul Verizzo
2019
December — The Big Little Art Show
November — Links Incorporated, Lone Star (TX) Chapter
October — Sung Cha Brooks
September — Center Art Club
August — Save Our Salamander
July — Clarence Born
June — Chesiel John
May — Rosemarie Good
April — Henry Huey
March — Paula Rasmussen
February — Bill Pickett
January — Shefali O'Hara
2018
December — Sung Cha Brooks
November — Clarence Born
October — Williamson County Art Guild
September — Janet Oh, Joey Roberts Show
August — Marinda Stewart
July — Baca Center Art Club
June — Charlotte Barbini, Janet Fulk
May — Charles Faires
April — Paul Verizzo
March — Suki Paek Gluzinski
February — RRBHO
January — Chanta Sheidow
2017
December — Sarah Fournie
November — Chanta Sheidow art students
October — Sung Cha Brooks
September — Janet Oh, Joey Roberts Show
August — Baca Center Art Club
July — Sarah Kluge
June — Carolyn Johnson
May — Shefali O'Hara
April — Lisa Zinna
March — Charles Faires
February — RROC Students
January —Clarence Born
2016
December — Ida Villanueva
November — Jean Hestand
October — Ashley (West Africa)
September — Baca Center Art Club
August — Marinda Stewart
July — Joey Roberts, Janet Oh, Marhs Eaves, Kimberly Dixon
June — Libby Chase
May — Danoh Exhibit
April — Anita de la Cruz
March — Sarah Kluge
February — BHO Photo Exhibits
January — Casey Janowski
2015
December — Artography Austin
November — Jean Hestand
October — Pamela Cotton
September — Janet Oh
August — Baca Center Art Club
July — Clarence Born
June — Chanta Sheidow
May — Julie Roberts
April — Janet Fulk and Charlotte Barbini
March — Kristin Molloy
February — Black History Month
January — Jessica Gray
2014
December — Janet Oh and Nelda Sheets
November — Debra King-Isaacs
October — Baca Center Art Club
September — Alexis Templeton
August — Kimberly Ruth Dixon
July — Clarence Born
June — Rob Monroe
May — The Serie Project
April — Jerikay Gayle
March — Xueren Deng
February — Don Tate
January — Baca Center Art Club
2013
December — Daniel Adams
November — Ted Keller
October — Baca Center Art Club- Day of the Dead Exhibit
September — Deborah King-Isaacs
August — Sharen Craddock Drawings